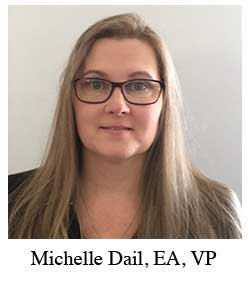 Michelle has been with Heritage Income Tax longer than any other employee.  Michelle has been preparing tax returns since 1999 and has passed the very difficult Enrolled Agents exam given by the Internal Revenue Service.  Then, after passing an extremely rigorous background investigation, she has become qualified as an Enrolled Agent (EA) and can represent taxpayers before the IRS for both audits and appeals.   Michelle has also graduated from the prestigious three year program of the National Tax Practice Institute and is designated as a "Fellow of the National Tax Practice Institute".
Michelle is a member of the Virginia Society of Tax & Accounting Professionals.
If you want a true professional preparing your tax return or assisting you with an audit, Michelle has the skills, and experience to deliver the best possible results.  Send an E-Mail to Michelle
CLIENT COMMENTS SPECIFICALLY MENTIONING MICHELLE DAIL
I like the feeling that Michelle is there to serve me and she answers all questions in a relaxed and unhurried manner.
The care, consideration and professionalism. I also like Michelle's attitude and her diligence to get our taxes done on time.
Michelle is so thorough and supportive. What a pleasant experience – for one that is not listed on my top 10 fun things to do.
I have been pleased to have Heritage Tax Service prepare my federal and state income tax returns for the past three years. The office atmosphere is pleasant. Fees are better than competitive when compared with local chains. Michelle Dail prepared my tax forms this year. She is friendly, professional and knowledgably answered my tax questions. For honest, reasonable tax services, I recommend Heritage.
Preparer (Michelle) was and seemed to be very friendly like you would expect from a person who deals directly with public. Now days some people forget that first impressions are never forgotten.
I liked the privacy of completing my taxes in her (Michelle's) office.
The last few years we have been with (major CPA firm) and prior to that we went to (another major CPA). By far, Heritage (Michelle) been the best in working with us to find information that is needed.
The professionalism of Michelle Dail. She is very knowledgeable and very patient.
The personal attention I received and the knowledge and efficiency of Michelle, our tax preparer.
Michelle is an exceptionally nice person and makes each year better than the last.
Quick appointment time. Michelle is very professional but also friendly.
She's very nice and professional (Michelle).
Excellent service, good conversation, best service in town – "Love" Michelle.
I have been doing my taxes with Michelle Dail at Heritage income Tax since tax year 1997 and I keep coming back religiously. She makes the experience very quick and easy and basically feels like a family member/close friend. I would refer anyone needing tax service to her and Heritage Tax Service, Inc.
Mrs. Dail is always very friendly and professional.
Dail is the best. Please keep her in the future. She is the one that always does our taxes. We love her. She is the best and is a real professional.
Michelle makes you feel really welcome.
Share on Facebook