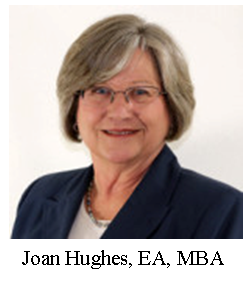 Joan has been preparing taxes since 1995 and has passed the very difficult Enrolled Agents exam given by the Internal Revenue Service.  Then, after passing an extremely rigorous background investigation, she has become qualified as an Enrolled Agent (EA) and can represent taxpayers before the IRS for both audits and appeals.  Joan has also graduated from the prestigious three year program of the National Tax Practice Institute and is designated as a "Fellow of the National Tax Practice Institute".
Joan is a member of the National Association of Enrolled Agents and the Virginia Society of Enrolled Agents.
If you want a true professional preparing your tax return or assisting you with an audit, Joan has the skills,and experience to deliver the best possible results.  Send an E-Mail to Joan
CLIENT COMMENTS SPECIFICALLY MENTIONING JOAN HUGHES
Very professional surroundings. Office was clean and neat. Joan is very caring and friendly. She is well versed in the tax laws. She always goes the distance in trying to save me money!
I liked how responsive they were. She (Joan) was always quick to return phone calls and answer e-mails. We mailed our information so she was not able to discuss or question face to face but did answer our questions by phone or e-mail. Also, very quick turn around.
Integrity and honest counsel, thoroughness.
I have been a client of Len Boush for many years with Joan being my preparer for the last several. The reason for such a long relationship is the confidence I have that Joan leaves no stone unturned in her effort to find all tax advantages that benefit me. For these reasons, I hope to be a satisfied customer for many years to come.
The professional attitude and obvious competency of (Joan) our tax preparer.
I enjoy seeing Joan every year. I like the fact that she takes care of us and makes sure we get whatever is owed to us and the fact that I do see the same person every year.
The personal touch! You (Joan) seem to really care about helping the client. We are not "just numbers" to you.
The willingness of Len and Joan to try their best to give me help. They both went out of their way to get my tax problem solved. I didn't worry at all because I knew I was in good hands.
Joan was very helpful and helped me through a difficult task.
Joan Hughes! She is the best.
Friendliness and you can talk to her (Joan) about anything concerning your taxes.
(Joan) was personable, quickly responded (even after work hours) to all our questions and inquiries.
You (Joan) have always answered every question quickly and so that we could understand the answer. You have always prepared our taxes very quickly also. You are always very professional in the way that you carry yourself and in the way that you handle us as customers. We do appreciate everything that you do and how you do it. The amount of money that you charge to do our taxes is very reasonable, much cheaper than many other places.
The efficiency and self-confidence with which the preparer (Joan) worked. And the will to do the job completely to my satisfaction.
Since moving from Jersey and having a great accountant, I was very skeptical about finding someone with the same quality and credentials. Joan has proven me wrong! She was the shining light at the end of the tunnel and proved that not only is she totally competent, but compassionate, extremely honest! I am now committed to using her for as long as I live in VA.
Friendly service from Mrs. Joan Hughes!
I'd certainly recommend you office and employees to everyone – I'm glad my son told me about you. Thank you Joan, your such a lovely lady. I'm sure all your patrons felt very comfortable with their visit with you as I did.
Joan is the best!
Share on Facebook